Holton
Holton Model H280 'Farkas' Professional Double French Horn SN 574898 OPEN BOX
Shipping Cost : $55.00
This French Horn has had very little playing time and is in perfect condition.
Holton horns offer an alternative in design that creates a great experience for the young or advanced players. This Farkas model offers independent tuning for convenience, allowing the player to tune the Bb side of the horn separately from the F side.
Holton Farkas - Key of F/Bb, .468 bore, Farkas wrap, 12-1/4 inch large throat yellow brass bell, nickel silver branches, yellow brass slide crooks and slide tubes, screw bell for ease of storage, mouthpipe waterkey, tapered rotors and bearings, clear lacquer finish, Holton-Farkas MDC mouthpiece. This instrument has an optional switch on the 4th rotor that enables it to stand in Bb if desired, as is the European style.
Pictures tell the rest of the story! Please feel free to email with any additional questions.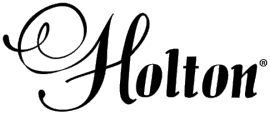 We are proud to be an authorized Holton dealer
We want you to be happy and satisfied with your purchase, and we offer an unconditional 14 day return policy. If you are unhappy with your instrument for any reason, just return it for a full refund or full credit towards an exchange. Reeds and other consumables are non-returnable once opened.