Holton
Holton 'Rudy Wiedoeft' Professional Alto Saxophone SN 38911 ORIGINAL GOLD PLATE
Shipping Cost : $45.00
Here is an AWESOME Holton 'Rudy Wiedoeft' Model alto saxophone in ORIGINAL GOLD PLATE!
Rudy Wiedoeft was a virtuoso saxophonist of the 'pre-jazz' era who was well known for his rapid articulations and playing style, and this is his signature model alto saxophone by Holton. A fine vintage instrument, this particular one still bears about 90% of its original gold plate. This has just had a complete repad by Carlo Sbisa and is ready to play. Looks great in its original case and plays great too!
Pictures tell the rest of the story! Please feel free to email with any additional questions.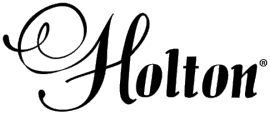 We are proud to be an authorized Holton dealer
We want you to be happy and satisfied with your purchase, and we offer an unconditional 14 day return policy. If you are unhappy with your instrument for any reason, just return it for a full refund or full credit towards an exchange. Reeds and other consumables are non-returnable once opened.