Holton
Holton Model H181 'Farkas' Professional Double French Horn BRAND NEW
Shipping Cost : Free
This instrument is brand new and carries the full 5 year manufacturer's warranty.
The H181 is the same as the H180 with the exception of the rose brass bell. A free-blowing horn, the large throat rose brass bell produces a darker sound that can be played at increased dynamic volumes while minimizing brassy edge. The independent Bb main tuning slide allows for incerased tuning flexibility.
Holton "Farkas" - Key of F/Bb, .468" bore, Farkas wrap, 12-1/4" large throat rose brass bell, yellow brass branches and slide crooks, nickel silver slide tubes, mouthpipe waterkey, tapered rotors and bearings, clear lacquer finish, Holton-Farkas MDC mouthpiece, CH179 fabric-covered, plastic shell case.
We offer free shipping on this instrument. Please feel free to email us with any additional questions!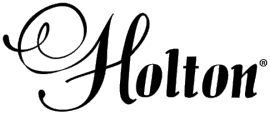 We are proud to be an authorized Holton dealer
We want you to be happy and satisfied with your purchase, and we offer an unconditional 14 day return policy. If you are unhappy with your instrument for any reason, just return it for a full refund or full credit towards an exchange. Reeds and other consumables are non-returnable once opened.