Holton
Holton Model H478 'Farkas' Professional Double French Horn with Screw Bell DISPLAY MODEL
It's Quinn's Great French Horn Sale! We recently took delivery of over 100 lightly used and display model French horns and are offering them at bargain prices!
This French Horn is in pristine condition. Ostensibly a demo model, I see no sign it has ever been played
An intermediate Kruspe wrap horn, this horn offers a great value for an intermediate horn. The H478 has similar playing charactaristics to those of the H178 with a bright, compact feel and outstanding tonal beauty. Medium throat bell provides a singing tone with fine legato charactaristics. Yellow brass produces a higher tone color and clearer projection. Independent Bb main tuning slide allows for incerased tuning flexibility.
Holton Farkas - Key of F/Bb, .468 bore, Farkas wrap, 12-1/4 inch medium throat yellow brass bell, yellow brass branches and slide crooks, nickel silver slide tubes, tapered rotors and bearings, clear lacquer finish, Holton-Farkas MC mouthpiece, CH602 plastic shell case.
Pictures tell the rest of the story! Please feel free to email with additional questions.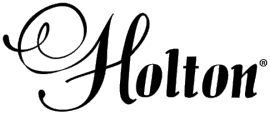 We are proud to be an authorized Holton dealer
---
Share this Product
---
More from this collection