Holton
Holton Model TR181 Professional Bass Trombone BRAND NEW
Shipping Cost : Free
This instrument is brand new and carries the full 5 year manufacturer's warranty.
The Holton TR181 inline independent double rotor bass trombone has the reputation of having established the true bass trombone sound. The 10" red brass bell has been styled to maintain a consistent, warm timbre at low and high dynamic levels. The unique G/Gb attachment can be reconfigured to the player's taste for setting up low C and B natural when desired. The bore design assures proper reinforcement of the lower partials. The chrome plated nickel silver inner handslide tubes provide the ideal surface for smooth and quick handslide action. The clear lacquer finish adds a subtle warmth to the sound overall. The Holton TR181 professional bass trombone is ideal for both symphonic and solo performance.
.562" bore
Key of Bb/F/Gb/D, G/Eb
10" rose brass bell
Double in-line independent rotor
Traditional wrap valve sections with traditional rotors
Nickel silver out slide
Clear lacquer finish
Holton 1-1/2G mouthpiece
CTR181 woodshell case
We offer free shipping on this instrument! Please feel free to email us with any additional questions.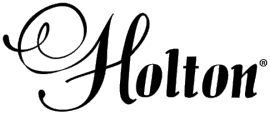 We are proud to be an authorized Holton dealer
We want you to be happy and satisfied with your purchase, and we offer an unconditional 14 day return policy. If you are unhappy with your instrument for any reason, just return it for a full refund or full credit towards an exchange. Reeds and other consumables are non-returnable once opened.