Holton
Holton Model B470R 'Collegiate' Student 3-Valve Baritone Horn BRAND NEW
Shipping Cost : Free
This instrument is brand new and carries the full 5 year manufacturer's warranty.
Ideal for the beginning band program, this baritone is designed to start the student right with a quick and easy response. Three top action stainless steel pistons create a long life for the valve section. Rose brass leadpipe resists corrosion.
Holton "Collegiate" - Key of Bb, .563" bore, 3 valve top action, 10" upright bell, rose brass mouthpipe, stainless steel pistons, clear lacquer finish, Holton 6-1/2AL tenor trombone mouthpiece, molded plastic shell case.
We offer free shipping on this instrument! Please feel free to email us with any additional questions.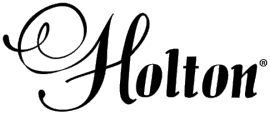 We are proud to be an authorized Holton dealer
We want you to be happy and satisfied with your purchase, and we offer an unconditional 14 day return policy. If you are unhappy with your instrument for any reason, just return it for a full refund or full credit towards an exchange. Reeds and other consumables are non-returnable once opened.