King
King Model Model 2280 Intermediate 4 Valve Euphonium SN 922735 VERY GOOD
Shipping Cost : $55.00
The King 2280 is an excellent intermediate, non-compensating euphonium that produces a great overall sound.
The spring-loaded 3rd slide and extra long 4th pull slide allow for extended range and aid intonation adjustments. Top-action, nickel plated pistons provide smooth, quick action and unmatched durability. King Legend - .580 primary bore, 4 valve top action, .600 bore through 4th valve, 11 inch upright bell, nickel plated pistons, nickel silver outside tubes, spring-loaded 3rd slide with adjustable finger ring, extra long 4th pull slide, clear lacquer finish. This instrument is in excellent used condition, This model features top action bell up configuration and a 4th valve for lower register and improved intonation. Cosmetically this instrument is very good. Original lacquer is about 90% remaining and there are some scratches from playing wear, but no signs this instrument has ever been seriously damaged. Playing-wise this horn is in excellent condition. All new valve felts and waterkey corks.
Pictures tell the rest of the story! Please feel free to email with any additional questions.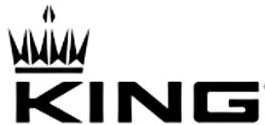 We are proud to be an authorized King dealer
We want you to be happy and satisfied with your purchase, and we offer an unconditional 30 day return policy. If you are unhappy with your item for any reason, just return it for a full refund or full credit towards an exchange. (Reeds and other consumables are non-returnable once opened.)
We warranty every item we sell to be free of mechanical defects. If you find an issue with your purchase, please contact us. We will either reimburse you to have any minor repairs completed by your local repair shop, or we will send you a label to cover all return postage charges so that we can either repair your instrument, exchange your instrument, or issue you a refund for your instrument. We stand behind our products, and we truly want you to be happy.
Please note that if you simply change your mind about purchase of an item - if you find that it's just not the one for you - you are still entitled to a full refund. We never charge a restocking fee; however, you will be responsible for the expense involved in shipping the item back to us. We will issue your refund directly upon receipt of the item, no questions asked.