King
King Model 608F 'Legend' Intermediate Tenor Trombone BRAND NEW
Shipping Cost : Free
This instrument is brand new and carries the full 5 year manufacturer's warranty.
With the help of Mr. Thomas King, a local trombone player in Cleveland, Ohio, H.N. White developed his first trombone in 1894 which was viewed in the market as a "revelation" to the music world due to radically different bell, bore and mouthpipe designs than those of other current prevailing models. Players loved the "King" trombone because the slide was finer, smoother, and lighter in action than any other. Since 1894 the King name has been synonymous with world-class high quality brass instruments. World renown artists, the likes of Tommy Dorsey, Ziggy Elman, Julian "Cannonball" Adderley, Charlie "The Bird" Parker, and Harry James, all trusted King as their choice of musical instrument. Built in Eastlake, Ohio, today's King professional trombones draw from that musical heritage and continue to set the standard for today's small bore jazz trombones. With a pedigree like no other, King trombones continue to be the choice of jazz artists the world over.
King "Legend" - .525" bore, key of Bb/F, 8" rose brass bell, standard wrap F attachment with standard rotor, yellow brass outer slide, clear lacquer finish, King 6-1/2AL mouthpiece, 7548C woodshell case.
We offer free shipping on all new instruments! Please email us any additional questions that you may have about this item.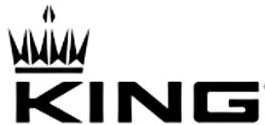 We are proud to be an authorized King dealer
We want you to be happy and satisfied with your purchase, and we offer an unconditional 14 day return policy. If you are unhappy with your instrument for any reason, just return it for a full refund or full credit towards an exchange. Reeds and other consumables are non-returnable once opened.