Selmer Paris Model 52JM 'Series II Jubilee' Alto Saxophone in Matte Lacquer BRAND NEW
Shipping Cost : Free
This instrument is brand new and carries the full manufacturer's warranty.
The Selmer Paris Series II alto saxophone is the most popular Selmer Paris saxophone in history. The 52JM is identical to the 52JU except that the matte finish with lacquer keys provides a unique look and warm tone. The Series II sopranino, soprano, alto, tenor, bass and baritone saxophones have been the professional choice for a generation and continue to be the most popular professional saxophone in the world. The reasons are clear: they all possess a flexible but centered tone that is natural in almost any playing situation. Yellow brass body tubes and keys resonate across the entire timbre spectrum: full-ribbed construction enhances their durability. The Series' superior intonation characteristics make these saxophone a natural choice for any professional or those who aspire to be.
Acoustics: Series II body style-full sound
Necks: Series II bore
Construction: full ribs
Body material: matte finish over yellow brass with clear lacquer keys
Mouthpiece: S-80 C*
Mechanism: compact key positioning - closer to the body and directly under the hand
Range: high F# key
Front F key: spatula
Left-hand thumb rest: plastic
Right-hand thumb rest: plastic adjustable
Adjusting screws: high F, G# key, F#/G# lug, F#/G#, adjusting bar, low C#, low B, side C, side Bb
Pivot screws: tapered
Needle springs: blue steel
Pads: treated leather with metal resonators
We offer free shipping on all new instruments. Please email us with any additional questions that you may have regarding this saxophone!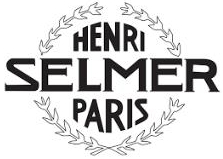 We are proud to be an authorized Selmer Paris dealer
We want you to be happy and satisfied with your purchase, and we offer an unconditional 14 day return policy. If you are unhappy with your instrument for any reason, just return it for a full refund or full credit towards an exchange. Reeds and other consumables are non-returnable once opened.