Selmer Paris Model 84 'Reference 36' Professional Tenor Saxophone MINT CONDITION
$ 8,199
$ 12,073
Save 32%
Shipping Cost : $55.00
This saxophone has had very little playing time and is in perfect, mint condition.
Designed to be a faithful copy of a Selmer Super Balanced Action tenor sax, the Reference 36 has been making quite a name for itself. Many are saying that this is the best tenor from Selmer since the early VIs. This instrument is in terrific shape. Original finish is 100% present, with no wear that I can see. There are no dents or dings or blemishes. Pads and action are perfect, and this horn is ready to play as is. It sounds GREAT with just the kind of sound and response you'd expect from a Selmer. This instrument does not even appear to have ever been played.
Acoustics: Reference body style-full sound
Necks: Reference bore
Construction: ribs
Body material: Rose lacquer over yellow brass
Mouthpiece: Super Session
Mechanism: compact key positioning - closer to the body and directly under the hand
Range: high F# key, Front F key: spatula
Left-hand thumb rest: plastic
Right-hand thumb rest: metal adjustable
Adjusting screws: high F, G# key, F#/G# lug, F#/G#, adjusting bar, low C#, low B, side C, side Bb
Pivot screws: tapered
Needle springs: blued steel
Pads: treated leather with metal resonators
Hand-engraved bell
Shaped flight case
Pictures tell the rest of the story! Please feel free to email with any additional questions!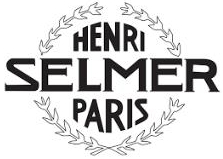 We are proud to be an authorized Selmer Paris dealer
We want you to be happy and satisfied with your purchase, and we offer an unconditional 14 day return policy. If you are unhappy with your instrument for any reason, just return it for a full refund or full credit towards an exchange. Reeds and other consumables are non-returnable once opened.