Selmer Paris Radio Improved Alto Saxophone 'Jimmy Dorsey' SN 24146 NICE
This is an excellent Selmer Jimmy Dorsey model Radio Improved alto saxophone
These were the latest of the horns in the complex wedged between the Model 26 and the Balanced Action. All of the models in this complex (Super Cigar Cutter Radio Improved Jimmy Dorsey Model) share certain characteristics including that nice French sound that made Selmer famous. The Jimmy Dorsey models were kind of an interesting anomaly-Selmer had moved on to the Balanced Action at this point but big band leader Jimmy Dorsey preferred the sound and feel of the Radio Improved so Selmer made a few of these special models for a few years after the introduction of the Balanced Action. This one is in good condition. Lacquer is regrettably not original and doesn't look great. This one is unusual in that it does not have the sheet metal keyguards that were typically on the Dorsey models but I have seen a couple of others like this - odds are Selmer just used whatever parts they had on hand for these. This horn has just had a complete repad by BRAD WHERRY and plays GREAT!
Provenance: The Robert Howe collection. Dr. Robert Howe is a well known researcher and historian of woodwind instruments and spent a lifetime collecting rare and unique instruments. We are privileged to offer instruments from this collection for sale.
Please feel free to email with additional questions!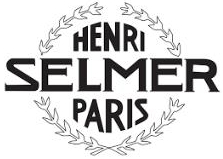 We are proud to be an authorized Selmer Paris dealer
We want you to be happy and satisfied with your purchase, and we offer an unconditional 30 day return policy. If you are unhappy with your item for any reason, just return it for a full refund or full credit towards an exchange. (Reeds and other consumables are non-returnable once opened.)
We warranty every item we sell to be free of mechanical defects. If you find an issue with your purchase, please contact us. We will either reimburse you to have any minor repairs completed by your local repair shop, or we will send you a label to cover all return postage charges so that we can either repair your instrument, exchange your instrument, or issue you a refund for your instrument. We stand behind our products, and we truly want you to be happy.
Please note that if you simply change your mind about purchase of an item - if you find that it's just not the one for you - you are still entitled to a full refund. We never charge a restocking fee; however, you will be responsible for the expense involved in shipping the item back to us. We will issue your refund directly upon receipt of the item, no questions asked.