Yanagisawa
Yanagisawa Model AWO20PG Bronze Alto Saxophone SN 00336122 PINK GOLD PLATE OPEN
$ 11,999
$ 21,172
Save 43%
Shipping Cost : $45.00
This is a GLORIOUS Yanagisawa AWO20PG professional alto saxophone.
The Yanagisawa AWO20PG is one of Yanagisawa's premium saxophones. Featuring solid bronze construction and pink gold plating, these instruments are some of the finest saxophones currently available. This particular instrument has only been out of the box for demo play and has less than an hour of playing time. There is a minor finish blemish on the bow, but other than that this horn is completely as new.
The AWO20PG features the same pitch stability tonal quality and mechanical sophistication as the AWO20 but the Bronze body fully plated in pink gold - a mix of 80% gold and 20% silver creates a stunning finish. This plating and the lack of lacquer enhances a wonderful tonal clarity which we have found especially popular with classical players. The pink gold horns only have a limited run each year. They are handmade in Japan by specialized artisan craftsmen. The Yanagisawa saxophone is the epitome of perfection on intonation ergonomics & build quality. Yanagisawa specializes in only manufacturing handmade professional saxophones. They offer some of the best values on the planet for a professional sax. With resonance and a refined sound the AWO20 series has outstanding evenness of intonation over its entire range at all dynamic levels. The AWO20 series has various upgrades over the AWO2 series: The double arm support on the low keys ensures better pad seating and a stronger low end sound. The posts that hold the keys in place are mounted onto strong support straps that run the length of the instrument; this adds weight and support to the body and influences the carrying power of the tone. Also the AWO20 series has an underslung neck for less resistance in the response and more reliable mechanics.
Pictures tell the rest of the story! Please feel free to email with any additional questions.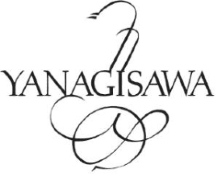 We are proud to be an authorized Yanagisawa dealer
We want you to be happy and satisfied with your purchase, and we offer an unconditional 30 day return policy. If you are unhappy with your item for any reason, just return it for a full refund or full credit towards an exchange. (Reeds and other consumables are non-returnable once opened.)
We warranty every item we sell to be free of mechanical defects. If you find an issue with your purchase, please contact us. We will either reimburse you to have any minor repairs completed by your local repair shop, or we will send you a label to cover all return postage charges so that we can either repair your instrument, exchange your instrument, or issue you a refund for your instrument. We stand behind our products, and we truly want you to be happy.
Please note that if you simply change your mind about purchase of an item - if you find that it's just not the one for you - you are still entitled to a full refund. We never charge a restocking fee; however, you will be responsible for the expense involved in shipping the item back to us. We will issue your refund directly upon receipt of the item, no questions asked.