Yanagisawa
Yanagisawa Model SWO10U Straight Soprano Saxophone SN 00372384 SUPERB
Shipping Cost : $45.00
This is a magnificent Yanagisawa SW010U Soprano Saxophone in factory unlacquered finish. WOW!
This model is one of Yanagisawa's best saxophones. Keywork and ergonomics are typical Yanagisawa high quality and the intonation is the best you'll find in any straight soprano anywhere. Straight and curved necks provide a variety of tonal options. This horn is factory unlacquered for a more vibrant and responsive tone, and will develop patina with age. This instrument is in perfect condition. It was a shop demo model and has had very little use. Original unlacquered finish is just starting to form patina and the pads and action are perfect as well.
Key: Bb
Range: Low Bb to High G
Necks: Interchangeable (straight and curved necks provided)
Body: Brass, hand-engraved
Fluororesin-sleeved octave rocker
C# - Bb connected table key
C# - Bb & C# - B double connected table key
White shell lined indented keys
Single Unit Seat (Base)
Pointed pivot screw
Air tight waterproof pads
Needle spring
Pictures tell the rest of the story! Please feel free to email with any additional questions.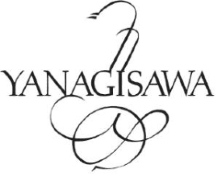 We are proud to be an authorized Yanagisawa dealer
We want you to be happy and satisfied with your purchase, and we offer an unconditional 30 day return policy. If you are unhappy with your item for any reason, just return it for a full refund or full credit towards an exchange. (Reeds and other consumables are non-returnable once opened.)
We warranty every item we sell to be free of mechanical defects. If you find an issue with your purchase, please contact us. We will either reimburse you to have any minor repairs completed by your local repair shop, or we will send you a label to cover all return postage charges so that we can either repair your instrument, exchange your instrument, or issue you a refund for your instrument. We stand behind our products, and we truly want you to be happy.
Please note that if you simply change your mind about purchase of an item - if you find that it's just not the one for you - you are still entitled to a full refund. We never charge a restocking fee; however, you will be responsible for the expense involved in shipping the item back to us. We will issue your refund directly upon receipt of the item, no questions asked.